We are Morgan horse breeders. It is our passion. We are continually striving to breed the best Morgan Horse we can. This Foal page is a list of our dreams for next spring. These planned breedings represent our dreams for Morgan foals that exceed all our expectations. We are dreaming and hoping for the perfect Morgan Horse that lives up to all our ideals. The thrill of the birth of a foal, that is everything we've hoped for, brings us great joy. If we can add a bit of color in the process, it is that much more thrilling as nothing beats witnessing the birth of a gorgeous colorful foal!
Our success comes from years of experience, looking at many Morgan horses, staying true to the breed, goal setting, and lots of patience and hard work. We have been fortunate to be able to raise several foals a year. By breeding several carefully selected Morgan mares to the same Morgan stallion we can determine which mares produce superior foals. The mare has a great influence on the foal. Most importantly, foals tend to mimic their dam's behavior and attitude toward other
horses. The foals are raised in a herd environment where they learn to interact with other horses and learn to be a horse first and foremost. We love our Morgan mares! Please visit our Mares page to see our beautiful Morgan mares!
2022 Foals Due – 3 Full Lippitt foals
2021 Foals
Devine YankeeDoodle Dandy
(Marvelous Ima Dandy x Devine Bring on the Rain)
Foaled July3, 2021
Sold
Devine That Girl Marlo
(Marvelous Ima Dandy x Devine Bring on the Rain)
foaled May 10, 2021
Retained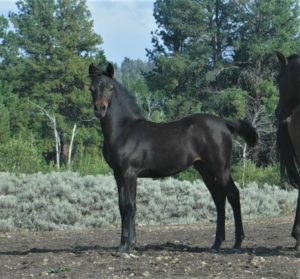 2020 Foals
Devine Spirit in the Skye
(Devine Spirit of Hope x Devine Jorja)
foaled June 6, 2020
Devine Ariel 
(Devine Cool Hand Luke x Dream Catcher Angyl)
foaled May-31-2020
2019 Foals
Devine Rudy Ruettiger
(Devine Cool Hand Luke x Degalisto Ima Papaver)
foaled May 30, 2019 – Retained
Photos by Heidi Osgood-Metcalf
2018 Foals
Devine Valoel
(Sandrock Joel X Dream Catcher Angyl)
 foaled April 18, 2018, Retained
photo by Heidi Osgood-Metcalf
Devine Memory
(Devine Spirit of Hope x Devine Jorja)
foaled May 27, 2018
photo by Heidi Osgood-Metcalf
---
2017 Foals
Devine Dolphin Merina
(Devine Cool Hand Luke x Degalisto Ima Papaver)
foaled April 22, 2017 – Deceased
Devine Eclipse Mystery
(Devine Cool Hand Luke x Devine Kate's Wild Honey)
foaled June 15, 2017